Care and Maintenance Tips for your New Teak Outdoor Furniture
T. Gregory Imports prides itself on using the highest quality Grade-A Teak in ALL of our outdoor furniture and shower products.
Every piece of outdoor Teak Furniture is custom made and custom cut specifically for us, we use thicker cuts, larger pieces, and heavier duty construction than most if not every other Teak manufacturers.
EVERY piece* comes in fully built (glued, screwed, and back doweled to seal)
*The only thing we put together are the legs on our dining tables.
ALL exposed metal components are Stainless Steel which is highly resistant to pitting and corrosion.
No oils, stains, or protectants are added to our Teak outdoor furniture, they are 100% natural.
What to expect when you place your New Teak outdoor furniture outside-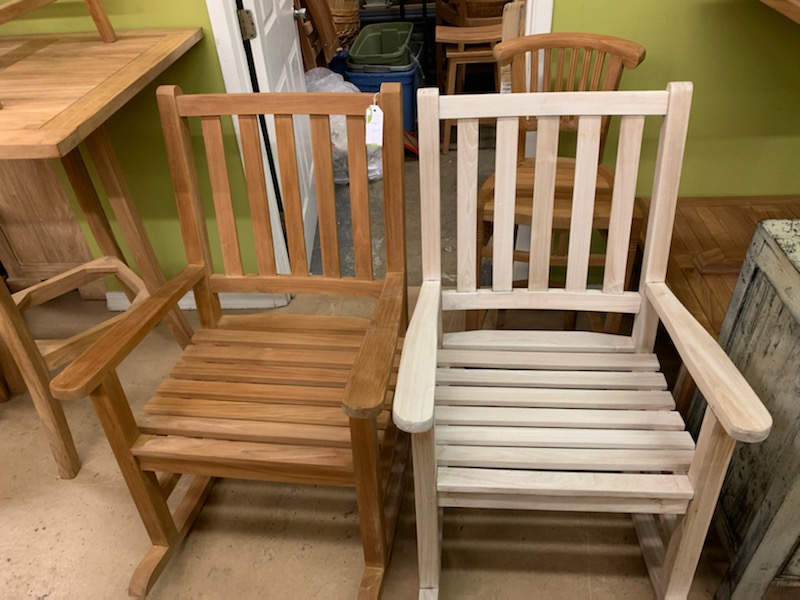 Within the first two weeks your furniture will acclimate to its new location outside. After the wood has been exposed to moisture, the surface grain may rise slightly. You may even notice a few small cracks, this is called "checking". This is a natural weathering effect. Wood expands and contracts slightly when left outdoors. The slight separation of the grain has no effect on the strength and longevity of the furniture. Water spots or other discoloration may also occur early in the weathering process. These spots will even out and the furniture will achieve a uniform silver-gray color over time, with occasional cleaning.
The only necessary maintenance for your teak outdoor furniture is an annual cleaning. During the first two to three years, all untreated teak will develop a silvery-gray patina (see photo below), which helps protect the wood. If this is the look you prefer, simply clean your teak once or twice a year.
If you prefer to maintain the original honey color for your new furniture, you can use a teak specific sealer. We recommend Semco (which can be found here) or Sikkens Teak Sealer. These brands offer natural looking long lasting protection, and help protect against stains.
When to apply sealer on your new Teak outdoor furniture –
Do not apply any sealers until your NEW Teak outdoor furniture has been outside for at least 2 weeks. ALL of our Teak comes in fully built (glued, screwed, and back doweled to seal) with no oils or finishes added. Before any application make sure your Teak is clean and absolutely dry. Sealing wet Teak WILL cause your Teak to rot from the inside out.
How to apply sealer to your new Teak outdoor furniture:
Semco and Sikkens are relatively easy to apply. Simply wipe on with a clean, lint-free rag. An old t-shirt works great.
Apply liberally (hitting any and all nooks and crannies) and wipe away any excess sealer with a separate clean rag. There is no need to worry about brush strokes or lap marks. The first coat will dry within one hour.
Apply a second coat after the first is completely dry. Be sure to apply the second coat within 24 hours. Two coats are all that are recommended for new OR restored outdoor Teak furniture.
**Be sure to read ALL the manufacturers labels and recommendations.**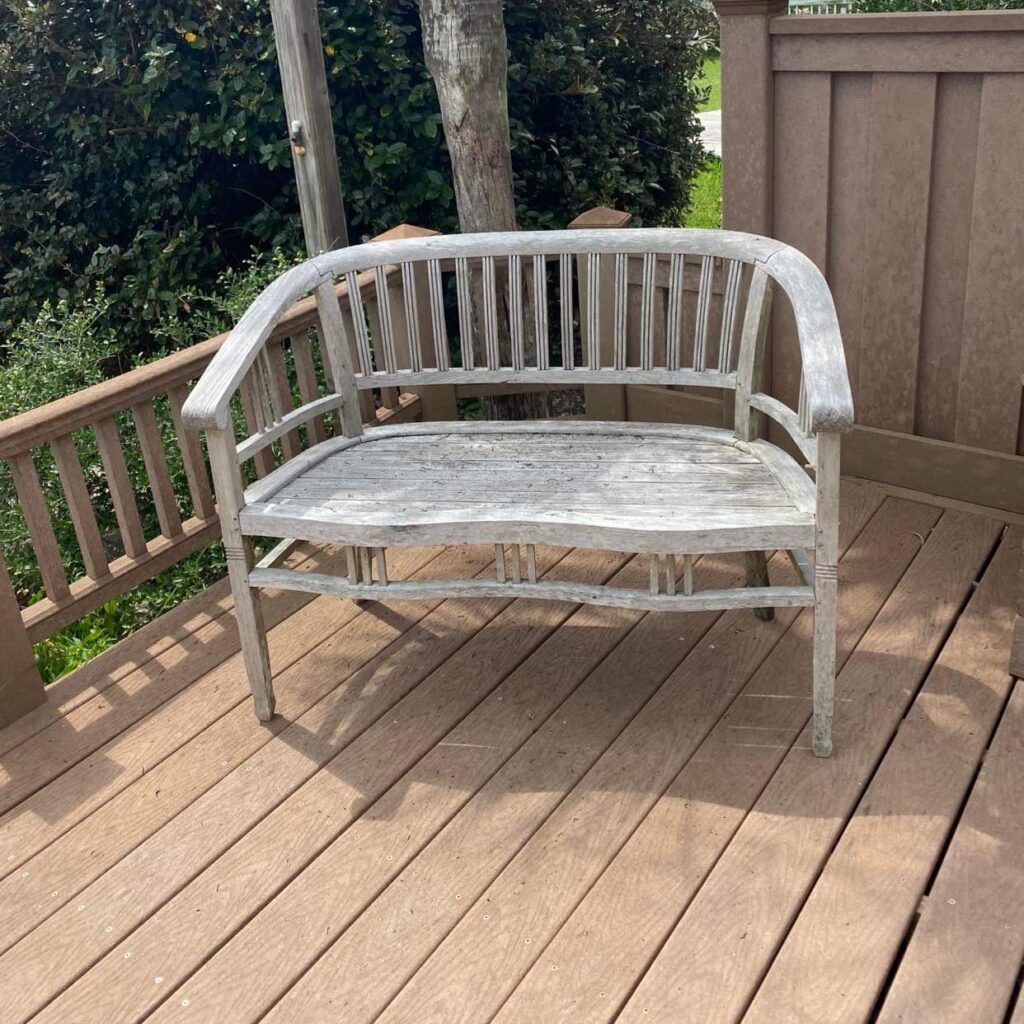 Pressure Washing –
Is NOT recommended because the high velocity pressure along with how close you're holding the nozzle creates too much variable for something to be ruined. The pressure of the water could penetrate the wood too far causing the oils to be stripped out and wood fibers to be removed.
Treating Stains –
Food and grease marks can usually be removed with just Dawn dish soap, water, and a soft plastic bristle brush (A good one can be found here ).
Stubborn stains can be treated with a bleach, soap, and water solution (1-3-10).
We only recommend bleach be used as a last option prior to sanding and in a very diluted state, because it can strip the natural oils out of your Teak outdoor furniture.
Additionally, the stain can always be sanded out with fine grit sandpaper as a last resort but over-sanding could cause a dip/dent and different discoloration of your outdoor Teak furniture to occur.
*NEVER USE STEEL WOOL, THE METAL WILL BREAK OFF INTO THE WOOD AND RUST*
Mildew Removal –
Mildew most often develops in conditions that are damp or highly humid where the furniture doesn't regularly dry out.
Should mildew (black spots) develop on your furniture, it can be removed with a mild solution of 1 part bleach to 10 parts water.
Apply the solution to the affected furniture and let sit for a minute. Lightly agitate with a soft plastic bristle brush, cleaning in the direction of the grain, and rinse clean with water. Repeat if necessary.
Annual Cleaning –
Annual cleaning is recommended to remove accumulated dirt, pollen, etc.
Thoroughly spray down your furniture with a garden hose to remove any loose dirt.
Then, while the furniture is still wet, use a plastic bristle hand brush and a mixture of Dawn dish soap or laundry detergent in a bucket full of water and lightly scrub the furniture back and forth in the direction of the grain of the wood. This scrubbing will agitate the dust and dirt from the teak.
Immediately hose off the furniture before it dries. This annual cleaning takes some elbow grease and is a bit wet and dirty. However, your teak will look fresh and shimmery silver and you will be happy with the results.
Shower Stools –
Should be left raw, there's no need to add sealants or oils, due to the high volume of water and moisture in a shower, you'll spend more time reapplying oils than you will enjoying your piece. Soap scum other shower related dirt and grime can be easily cleaned using the same simple solutions as above. Dawn dish soap and water (3-10) or diluted bleach, soap, and water (1-3-10)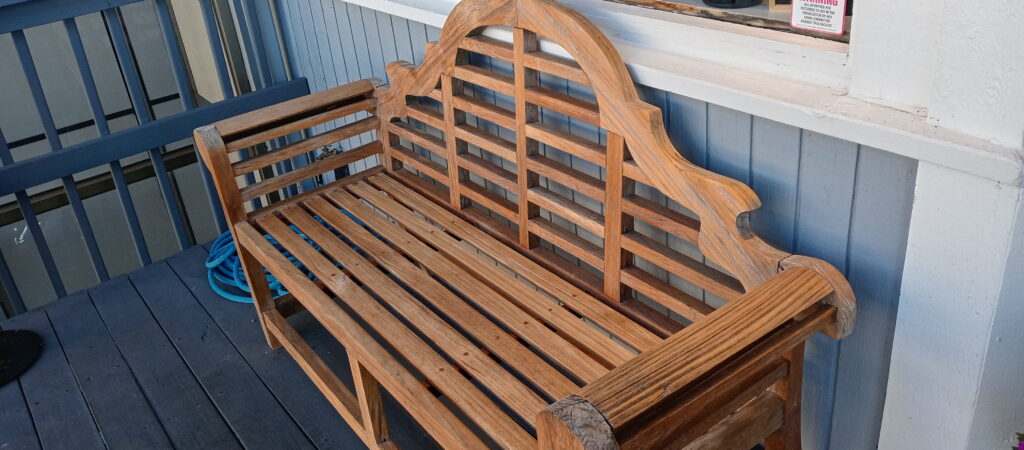 T. Gregory Imports take great pride in using the highest quality Grade-A Teak in ALL of our outdoor furniture and shower products.
Thank you for being a T Gregory Imports customer!
Follow us on Facebook and Instagram!